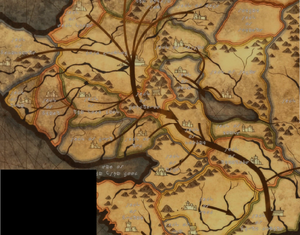 The Central Continent is a peninsula of human nations in the north of the Southern United Kingdoms. It is also the main location of the Church.
During the Fifteen Year Human-Demon War, the Central Continent provided massive military assistance to the Southern United Kingdoms to drive back Demon invasions and launched Holy Crusades into the Demon Realm where its armies captured Gate City. Although despite that, the Central nations grew prosperous while the Southern counterparts suffered greatly from pressure of its northern neighbors and demon attacks until Crimson Scholar's revolutionary ideas changed all that.
Countries
Edit
Kingsland
Sand Dune Nation
Rock Shore Nation
Violet-Bannered Queensland
Oak Nation
Maple Nation
Kingfisher Nation
Lake Nation
Copper Nation
Reed Nation
Mountain Nation
Bull Neck Nation
Bell Nation
Fog Nation
Ad blocker interference detected!
Wikia is a free-to-use site that makes money from advertising. We have a modified experience for viewers using ad blockers

Wikia is not accessible if you've made further modifications. Remove the custom ad blocker rule(s) and the page will load as expected.